The Music Center BT HD is Elipson's newest receiver.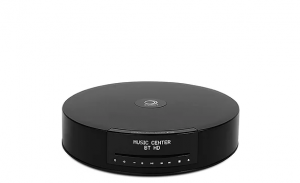 A revamped version of an Elipson classic, it boasts a black finish and meets the highest standards. This class-D amplifier features ICE Power technology. Its power rating is largely sufficient (2×120 Watts / 4 Ohms), and a comprehensive range of connections is included. In addition to standard speaker terminals and RCA inputs, the Music Center BT HD features an optical input, a USB port and a pre-out connection for a power amplifier. A subwoofer may be connected to the SUB output. This output features an adjustable filter which covers frequencies between 50 and 200 Hz, thus guaranteeing optimal compatibility with the main speakers. It is also compatible with the aptX HD protocol, which enables playback of high-resolution files up to 24-bits.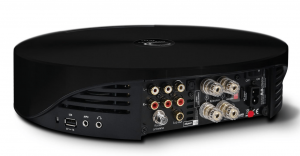 The stylish circular case now boasts a black finish. The touch user interface is situated under the CD slot. The RDS FM tuner adds the finishing touch to this very versatile receiver. This device is the perfect addition to a modern smart home installation, thanks to the Chromecast box input (Chrome Cast optional). This box allows the user to connect to the receiver via Wi-Fi directly from a smartphone, tablet, or computer, thus guaranteeing lossless and latency-free transmission. To enjoy optimal integration into your living room decor, a specially designed stand featuring a cable path is also available.
Simply put, this is one of the rare ultra-connected circular receivers to offer a truly exceptional audiophile-grade listening experience.
The Elipson Prestige Facet 6B speaker introduces a host of innovative technologies. The most visible is undeniably the ring of sculpted facets surrounding each driver, which gives the range its name. A rigorous design process ensures optimal acoustic performance, while an elegant finish allows the speaker to blend in harmoniously with your interior decor.
PRESTIGE FACET 6B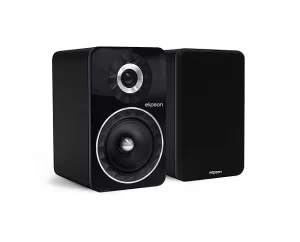 The Prestige Facet 6B is availble in black, walnut and white. A black or white lacquer is applied to the double-layer front panel.
The newest model in the range, it is equipped with a 14 cm low midrange driver featuring a bullet-shaped phase plug to limit vibrations and, consequently, reduce distortion. A 25 mm soft dome tweeter reproduces highs with finesse and precision. The multifaceted, sculpted silicone surround rings encircling each driver reduce the baffle effect and limit diffractions. The result is a more linear response curve and a smoother listening experience.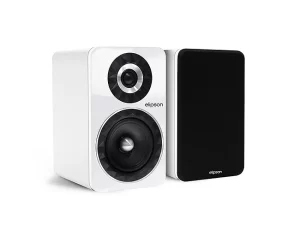 Extra attention has been paid to the speaker's cabinet. The lacquered front panel is composed of two dense, thick materials and strengthened by several internal brackets. The speaker's steep-slope filter relies on highly efficient, audiophile-grade components. As for the finish quality, it is not overlooked and offers benefits such as premium-quality vinyl and a lacquered front panel.
At Elipson, the back counts as much as the front. Our designers have created rounded, high-end dual speaker terminals which offer the possibility of biwiring and biamplifying while benefiting from silver-plated contacts to maximize signal transmission. Banana plugs may also be connected to the terminals.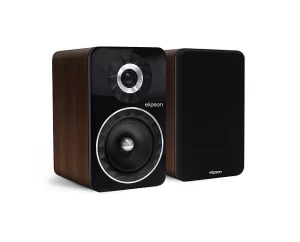 Neutral and accurate, this small speaker delivers sound which is free from colouration and faithful to the original recording. Impressions of smoothness and serenity emanate from each track as it is masterfully reproduced, without any hint of harshness.