Description
PHANTOM I 108 DB
A CLASS OF ITS OWN.
A single speaker that changed many things. The laws of physics had spoken: implosive sound simply could not be achieved in wireless form. After more than a decade of research and development and hundreds of patents filed, Phantom I succeeded in shattering limitations.
Distinctive and iconoclastic, it packs groundbreaking technologies to deliver an intense listening experience, the kind you feel in your bones and in your soul, for real.
Highly intuitive and connectable, Phantom I unleashes the physical impact of high-end, ultra-dense sound with more power, clarity, and precision than any other wireless speaker.
Welcome to the pinnacle.
ANATOMICAL ANOMALY.
Over 10 years of research and development, 200+ patents filed, and 100 specialists in aerodynamics, automotive, acoustics, and mechanical engineering. That's all it took to perfect a system capable of pushing the limits of physics, and deliver standard-setting performance. Zero distortion, zero saturation, zero background noise.
Absolute fidelity, gold and titanium and dark chrome, quintessential.
108 dB SPL. 14Hz – 27kHz. 1100 Watts RMS.
Phantom I 108 dB, the ultimate connected speaker with its Remote. Hear every detail brought to life with unthinkable clarity and precision by a Grade I Titanium tweeter. Surrender to indecent power and ultra-deep bass. Sound in its purest and most essential form. No apologies.
BREAK THE STEREOTYPES
EXPAND YOUR HORIZONS.
The only thing better than one Phantom? Two. In stereo, Phantom's soundstage expands even further and listening takes on a new dimension as the speakers dance in absolute synchronicity. More extreme, more powerful, more exhilarating. It is an unthinkably immersive experience.
Devialet thrives on end-to-end innovation (hardware, software, design inside and out, manufacturing) to offer ever-enhanced acoustics. In fact, to create Phantom, we have had to build our own plant, hire talents who were used to unique challenges in other industries, conceive our own robotics and quality control.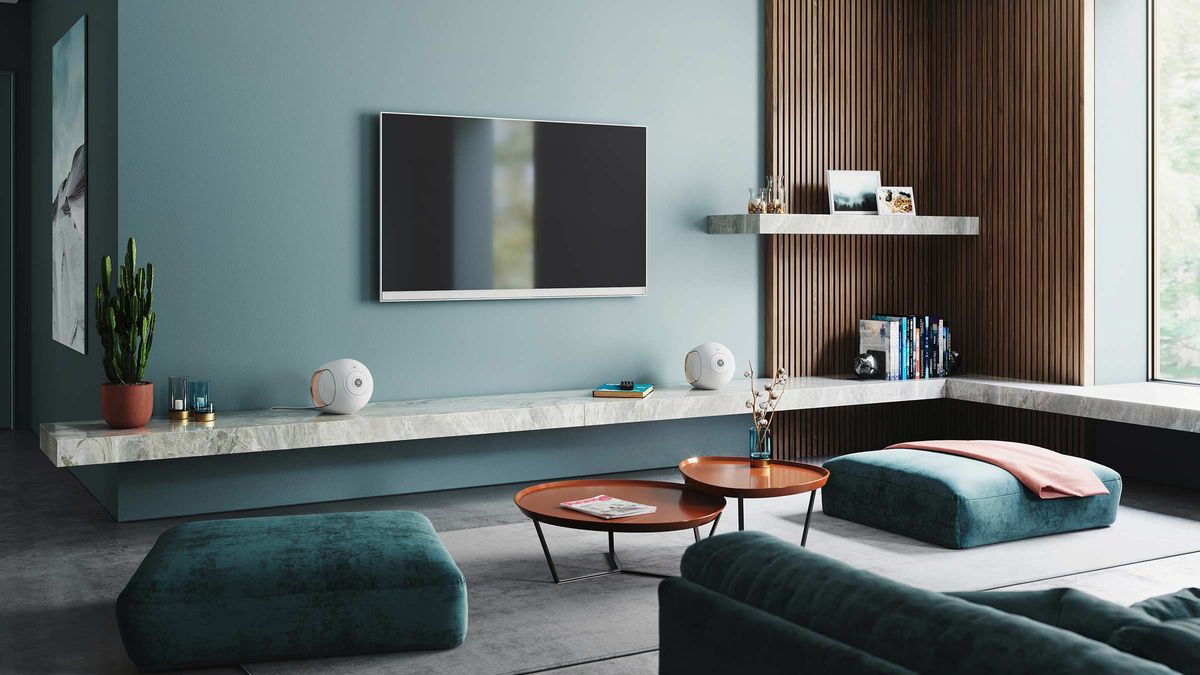 UNIQUE DEVIALET INNOVATIONS
Phantom is the absolute expression of the vision we're constantly working towards: making the best sound in the world as universal as possible. By combining radical new patented inventions, Phantom consistently shatters expectations. At every step of the sound reproduction chain.
With performances 10 to 1000 times superior to anything previously measured, sound will never be the same. Game changed.
ADH® Analog Digital Hybrid
A Devialet patented technology, ADH® or Analog Digital Hybrid delivers all the sophistication of analog amplification together with all the power and compactness of digital amplification. The best of both worlds. For amplification of unparalleled clarity and transparency, whatever the volume. At every turn. Revolutionary, in a word.
HBI® Heart Bass Implosion
HBI® is a one-of-a-kind system. Developed exclusively for Phantom, it takes you to the lowest frequencies ever emitted.
Engineered to perform under extreme compactness and pressure, Phantom's hermetically sealed architecture consists of two lateral woofers powering together. The sheer thrust force behind their combined movement generates ultra-dense sound with physical impact. Right down to infrasound. 14Hz. Welcome to the deep end.
SAM® Speaker Active Matching
We invented SAM® mathematical model to ensure extreme fidelity. All throughout playback. Whether you're dealing with transients or steady-state signal, the degree of information processed by SAM® is radically superior to anything previously deemed possible.
This enables Phantom to reproduce the exact rhythm and tempo of your music. All of it. With absolute precision. So that you can experience every last emotion. Just as the artist intended.
ACE Active Cospherical Engine
Our ACE technology is inherent to Phantom's revolutionary architecture. Driven by the acoustic principle of Olson's pulsating sphere, Phantom radically optimizes the way sound waves form and travel. Evenly, and in all directions. For perfectly balanced sound and zero surface diffraction. Whatever the listening angle.
Our EVO Platform provides you with latest upgrades. Receive performance and compatibility updates direct to your Phantom. Wirelessly and hassle-free. Simply connect to the Devialet app and let EVO cybernetics do the rest. RIP, planned obsolescence.