A Collector Piece for Any HiFi Enthusiast
Exclusive to RIO Sound and Vision and only available through ourselves outside of Germany, these are the limited addition A45 CANTON Floor Stand Speakers to mark the 45 Years of Excellence from CANTON Loud Speaker Manufacturer.
Design and Engineered by the founder of CANTON himself, this is a rare opportunity to own a piece of history.
Simple design and outstanding technology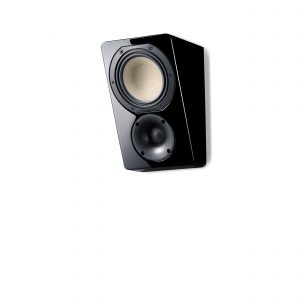 The A 45 AR is a 2-way compact loudspeaker that can be placed as a "Dolby Atmos Enabled Speaker" on existing front or rear speakers of a home cinema system. Thanks to its special design and conception, the A 45 AR reproduces true 3D sound – the sound is extended by the vertical dimension. Hear and experience airplanes flying overhead, rain falling on you or leaves rustling in the wind above and around you. The A 45 AR can be used not only as a top speaker: with the integrated wall bracket, it can be easily mounted on a wall where it can be used as a stereo or effect speaker.
Exclusive
The Dolby Atmos speaker A 45 AR is the result of the excellent technical components of our Reference models. As a listener, you benefit from the extremely light and stiff aluminium-ceramic-tungsten cone of the 2-way speaker. In combination with the triple-folded wave surround and the ceramic-oxide tweeter system, the result is a neutral and unadulterated speaker with the finest detail resolution. The one-piece wave guide with integrated membrane protection supports the radiation characteristics of the loudspeaker system. The compact speaker can cope with up to 100 watts of amplifier power, and thanks to its Dolby Atmos licensing and integrated wall mount it is very flexible in use.
Highest Quality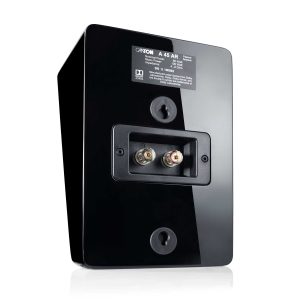 Like all our A-Series models, the Dolby Atmos A 45 AR loudspeaker is built in our Weilrod factory. This is the only way we can maintain the necessary quality standards, minimise tolerances, eliminate any possible faults and maintain the high sound standards we demand of our loudspeakers. The silky-matt white shimmering or high-gloss black surfaces are painted in several layers and finally finished with an elaborate finish. They are equipped with very solid screw terminals which, thanks to their 24 carat gold plating, ensure maximum conductivity and long-term stability. The A 45 AR also welcomes large cable cross-sections of up to ten mm² as well as fork terminals and banana plugs. Last but not least, the full-size fabric cover, which is held in place on the baffle by magnets, ensures a simple, elegant appearance.
Even better in a team
Thanks to the high-quality components, you can use the A 45 AR as a high-quality stereo speaker for music playback. But as an extension to an existing home cinema system, the Dolby Atmos Enabled Speaker really blossoms. Simply use it as an attachment speaker with our A 45 BS compact speaker or the ideally harmonising A 35, A 45 and A 55 floorstanding speakers and complement our A 45 SUB subwoofer. This will transform your home into a fantastically good-sounding home cinema, turning movie playback into an impressively emotional event. For a high-quality connection to your amplifier, use the CantoLink 400 speaker cable, available in our online store. It's a proprietary, six-core, high-end speaker cable with a special core and jacket for the best possible sound quality.