Floor Stand Technology
Like all our speakers, we also manufacture the A 55 in our factory in Weilrod im Taunus. Only in this way can we maintain the necessary quality standards, eliminate fault tolerances and adhere to the high sound requirements of our loudspeaker standards.
The A 55 is a high end floorstanding speaker and the newest member of the online exclusive series. With a larger design than the smaller sister A 45, there is now a larger 3-way high-end floorstanding speaker with our reference technology from today. The housing material of the A 55 is made of a high-density fibreboard (HDF) and is extremely stable thanks to the additional internal stiffening. The case surface is high-quality processed, elaborately painted and in the versions white silk matt and black High-Gloss available. Like your smaller sister – the A 45 – the A 55 is a downfire bass reflex system with a well-rounded body, benefiting from its optimized edge breakage.
Made of solid HDF, the extremely stiff housing with additional struts in white satin finish and black high-gloss finish is a real highlight of 45 years of loudspeaker construction thanks to the optimized rounded edge break. The high-end floorstanding speaker with 3-way downfire bass reflex system gets an elegant face through the new curved aluminum base construction and forms the foundation for a perfect standing. The elaborately turned aluminum feet are height-adjustable and show the attention to detail of the A 55. Another optical highlight are the new Seamless Diamond-Cut aluminum rings. The result is a modern and clean look, with no screws to see.
Connection options and versions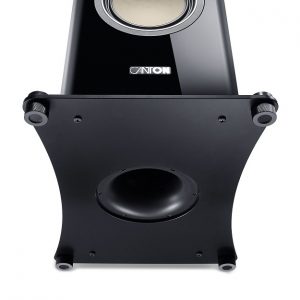 The A 55 is equipped with an elaborate bi-wiring / bi-amping connection terminal. High-frequency range and low / mid-tone range can thus be controlled separately. 24-carat gold-plated, sturdy screw terminals with a cable cross-section of up to 10 mm2, ensuring optimal signal transmission. If required, the high-quality and acoustically neutral full-size fabric covers in black conceal the direct view of the technology and can be attached elegantly by means of magnetic fastening.
For a perfect connection with your amplifier, we offer the CantoLink 400 speaker cable available in our online shop, a specially developed six-core high-end speaker cable with a special core and sheath. You can use the A 55 as a stereo speaker for listening to music or as a home cinema set with the matching A Series models: A 45 (tower speaker), A 45 CS (center), A 45 AR (Atmos) and the matching subwoofer A 45 SUB.