Description
The Phantom Revolution
PHANTOM II REACTOR OPÉRA DE PARIS | DEVIALET
Monumental, wherever you're seated.
900 Watts | 98 dB SPL
The master gilders at Ateliers Gohard finished the Phantom's gold leaf side plates following time-honored methods. Each gold leaf is applied by hand to create a unique patina. And these heritage techniques demand absolute perfection—once the leaf has been applied, it cannot be removed. Bearing the Phantom Reactor Opéra de Paris | Devialet signature, the side plates are gilded with Moon Gold, a precious and stainless palladium-yellow gold alloy.
THIS CHANGES EVERYTHING – EXCEPT YOUR TAKE ON MUSIC.
Whether you're used to Bluetooth or Wi-Fi, optical or analog, Phantom Reactor's open architecture lets you have it your way. AirPlay®. UPnP. Spotify Connect. Get straight to the music you love.
SOLO OR DUO: HOW FAR WILL YOU GO?
More than you bargained for, Phantom Reactor's spherical design radically redefines Solo performance. Experience beautifully rich and unspoiled acoustics, wherever you are.
Our latest software update introduces stereo to Phantom Reactor, creating the widest possible sound stage from ultra-compact speakers. In Duo mode, Phantom Reactor delivers even more power and emotion, immersing you in your favorite music, movies and games.
UNIQUE DEVIALET INNOVATIONS
Phantom is the absolute expression of the vision we're constantly working towards: making the best sound in the world as universal as possible. By combining radical new patented inventions, Phantom consistently shatters expectations. At every step of the sound reproduction chain.
With performances 10 to 1000 times superior to anything previously measured, sound will never be the same. Game changed.
ADH® Analog Digital Hybrid
A Devialet patented technology, ADH® or Analog Digital Hybrid delivers all the sophistication of analog amplification together with all the power and compactness of digital amplification. The best of both worlds. For amplification of unparalleled clarity and transparency, whatever the volume. At every turn. Revolutionary, in a word.
HBI® Heart Bass Implosion
HBI® is a one-of-a-kind system. Developed exclusively for Phantom, it takes you to the lowest frequencies ever emitted.
Engineered to perform under extreme compactness and pressure, Phantom's hermetically sealed architecture consists of two lateral woofers powering together. The sheer thrust force behind their combined movement generates ultra-dense sound with physical impact. Right down to infrasound. 14Hz. Welcome to the deep end.
SAM® Speaker Active Matching
We invented SAM® mathematical model to ensure extreme fidelity. All throughout playback. Whether you're dealing with transients or steady-state signal, the degree of information processed by SAM® is radically superior to anything previously deemed possible.
This enables Phantom to reproduce the exact rhythm and tempo of your music. All of it. With absolute precision. So that you can experience every last emotion. Just as the artist intended.
ACE Active Cospherical Engine
Our ACE technology is inherent to Phantom's revolutionary architecture. Driven by the acoustic principle of Olson's pulsating sphere, Phantom radically optimizes the way sound waves form and travel. Evenly, and in all directions. For perfectly balanced sound and zero surface diffraction. Whatever the listening angle.
THIS IS NO SMALL REVOLUTION.
This is Phantom Reactor, a new breed of wireless speaker. By stretching size and performance beyond reasonable limits, Devialet engineers have brought to life the only ultra-compact home sound system capable of delivering high fidelity and physical impact, whatever volume you listen at. Insanely powerful. Defiantly small. You won't know what hit you.
Unreasonably compact for a system this powerful, Phantom Reactor fits in almost anywhere. Made for compulsive listening experiences, the new easy-to-carry Phantom features every available Devialet technology in under 3 liters. Sound that really moves? You bet.
WITH PHANTOM REACTOR IN STEREO, 1+1 = 3.
Yes, the math is correct. Create a stereo pair now and gain up to three extra decibels. Added impact. Multiple emotions. Infinitely compact.
MULTIROOM: HERE, THERE, AND EVERYWHERE
Whether you want your home to sync up like a symphony, or look to prefer different tunes in different rooms… we have good news.
Introducing Devialet Multiroom for Phantom. That means you now have more ways to play.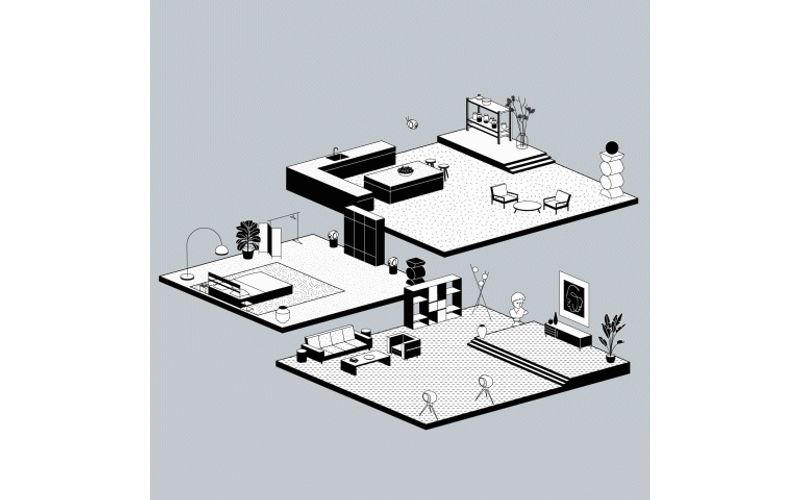 MULTI-ZONE PLAY
Rooms of the home, unite! Group your speakers and jam to the same music in multiple rooms.
SINGLE-ZONE PLAY
One room, multiple possibilities. Mix and match your Phantoms for a next-level acoustic experience. And you can always pair them in
INDIVIDUAL PLAY
Different vibes for different tribes. Someone can listen to jazz in the kitchen while another enjoys a podcast on the couch. And you can each control your volume and manage zones directly in your own Devialet apps.
SERIOUSLY SOPHISTICATED. HUGELY ADDICTIVE.
Meet the most extreme concentration of high technology known to any sound system: 981 parts protected by 160+ patents. Phantom Reactor is the first home speaker designed to take you deeper into sound.
From 18Hz to 21kHz, feel every note with phenomenal purity, precision and richness. 0 distortion, 0 saturation and 0 background noise ensure you get nothing but audiophile-grade playback, even at 900W. A habit you won't want to quit. Find out what you're both capable of.
TAKE CONTROL. OR LOSE IT.
Reach out and make contact. Phantom Reactor will behave – unless you decide otherwise. Skip to your favorite track. Let the woofers run wild. Demand total silence. Touch controls give you total command of the situation with a single stroke.
And if you'd rather stand back, the new Devialet app lets you interact with Phantom Reactor from a distance with absolute precision. Pushing the button on unreasonable sound has never been easier. Your call.