DEVIALET DIONE SOUNDBAR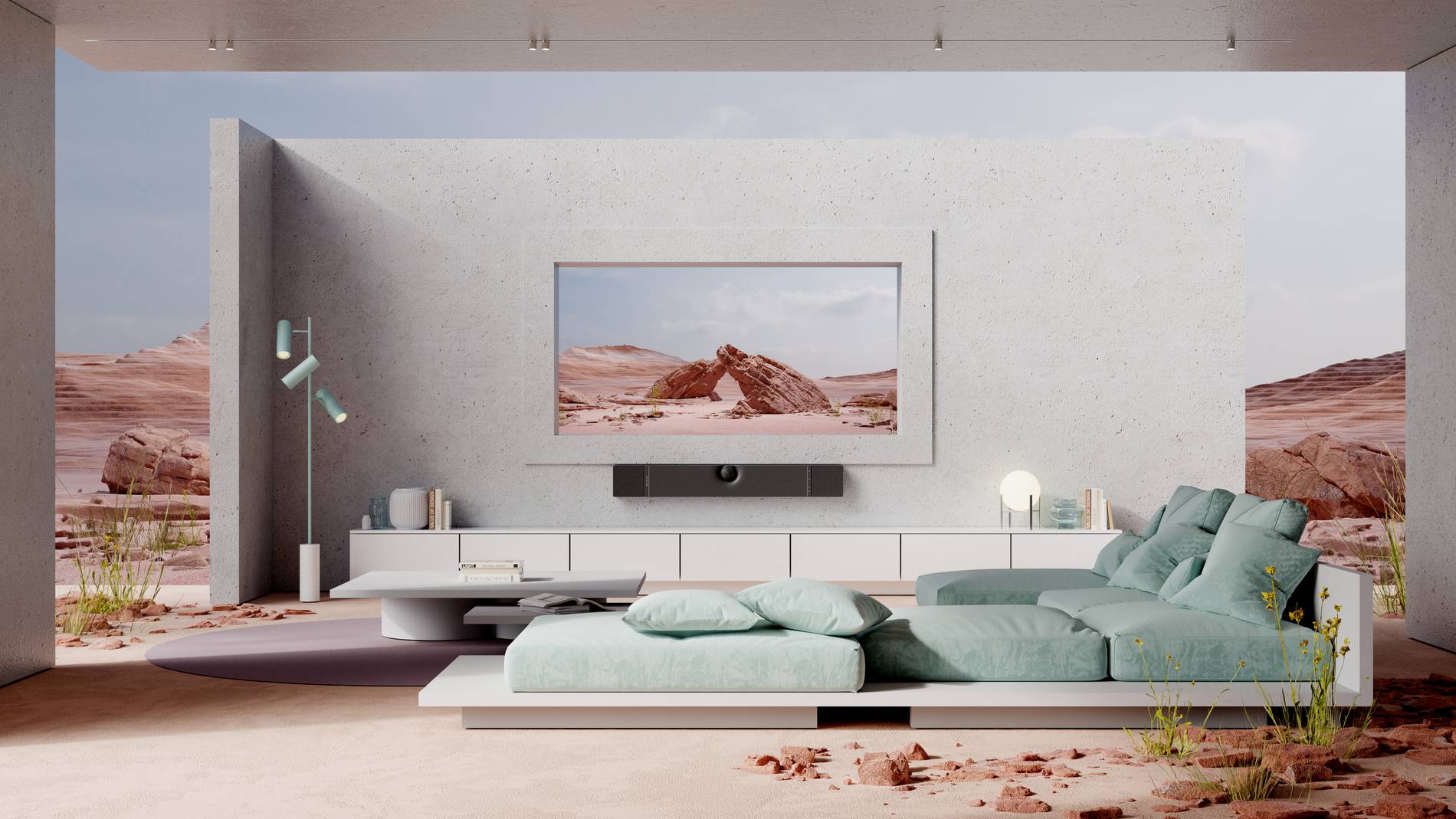 Sound. Unbound.
Intensely immersive
Devialet Dione is Devialet's acoustic engineering applied to home cinema: a high-end, all-in-one Dolby Atmos® 5.1.2 soundbar that elevates all contents on your television.
Engineering excellence
Seventeen autonomous high-end drivers deliver dynamic midrange and crystal-clear treble, while eight built-in SAM®-powered subwoofers remove any need for additional equipment, making Devialet Dione a truly all-in-one soundbar.
Strikingly Discreet
With the best performance-to-thinnest ratio, Devialet Dione stands out in both design and sound quality, and blends in when the action begins. And its sleek central ORB®️ is a nod to Phantom's signature aesthetic.
Devialet Dione is ALL You Need
External subwoofer? No need to add what's already built in. Devialet Dione soundbar boasts eight internal subwoofers, the highest on the market, making it a true all-in-one sound system.
Devialet Dione 8x high-excursion subwoofers are custom-designed to deliver powerful and deep low-frequency effects with improved sound wave directivity to greatly enhance bass restitution and immersion.
MORE is More
Devialet Dione soundbar is powered by a 17 high-end drivers array in a 5.1.2 surround-channel configuration boasting five ground channels, a subwoofer channel, and two upper/ceiling channels.
With more drivers than a traditional soundbar, Devialet Dione delivers room-filling sound with rich bass, clear medium, and precise treble. In other words, sound that plunges you into the scene.
Enjoy Sound That Goes Above and Beyond
The Devialet Dione soundbar is Dolby Atmos-enabled, allowing it to provide a uniquely immersive, 5.1.2 surround viewing experience.
SPACE™ ensures an immersive and enveloping sound experience. The proprietary technology actively upscales any stereo-encoded 2.0 signal into a 5.1.2, no matter what you are viewing. In other words, your visual may be straight ahead, but your sound is coming from all around you.
The Adaptability Gene
State-of-the-art sound engineering made simple. Devialet Dione intelligently adapts to each room to provide the best experience, whatever content you are watching.
Whether wall-mounted or placed on a piece of furniture, Devialet Dione harnesses its room calibration technology to fill your space with pristine sound, no matter your preferred set-up, audio modes, and equalization.
Devialet Intelligence Processor
The Devialet Intelligence Processor combines Devialet's amplification and signal processing technologies (ADH®, SAM®, Magic Wire, Class A, DAC) into a single, one-square-centimeter System on a Chip (SoC), custom-designed for optimal efficiency.
Adaptive Volume Level™
Devialet's Adaptive Volume Level (AVL™) technology is Devialet Dione's dynamic equalizer. It harmonizes sound levels adapted to each content, in real time, for a more enjoyable listening experience. An action packed scene coupled with wispering dialogue? You won't miss a single detail.
Music From Anywhere. Anytime.
Devialet Dione is compatible with Bluetooth, AirPlay 2, and Spotify Connect. It can also be connected to your TV via HDMI or TOSLINK optical input for any digital music source. And when combined with SPACE™ technology, your music is spacialized and delivered in enveloping 3D.
Pushing the Boundaries of Sound Experience 
Devialet was born of a pledge: to keep pushing the boundaries of sound experiences. Fourteen years later, after delivering groundbreaking, iconoclast innovations in the field of acoustics, Devialet ventures into the world of audio-visual.
DEVIALET APP
Devialet Dione runs on the DOS2 software ecosystem, meaning set-up and customization are seamless in the Devialet App.
Devialet Dione also integrates into a Phantom multiroom configuration through Airplay2. This set-up is also possible for any Airplay 2-enabled speaker if you use iOS.
Here you can either buy a Devialet Dione soundbar online or visit one of our stores to listen to one and get advice from our award winning staff.